Wally has a stance and gait reminiscent of her mother Lisl.  She has a lovely temperament and an exuberance that carries her past the breed ring and into performance events.  She won her puppy class at the 2007 Weimaraner Nationals and finished easliy with three majors at eighteen months.  She placed first in her class at the Central Futurity in 2008 and placed fourth in a very competitive maturity class at the Central Futurity/Maturity in 2009.  Wally has begun competing in agility and obedience, has earned her novice agility titles and her CD.
In January of 2014, I made the difficult decision to let Wally go live with a couple who had owned one of her sisters.  We miss her, but she is rapidly settling in there--running their office, greeting their clients, accepting UPS deliveries.  Her best friend is a Chihuahua named Kricket
. 
Her new owners plan to continue her obedience training
.
W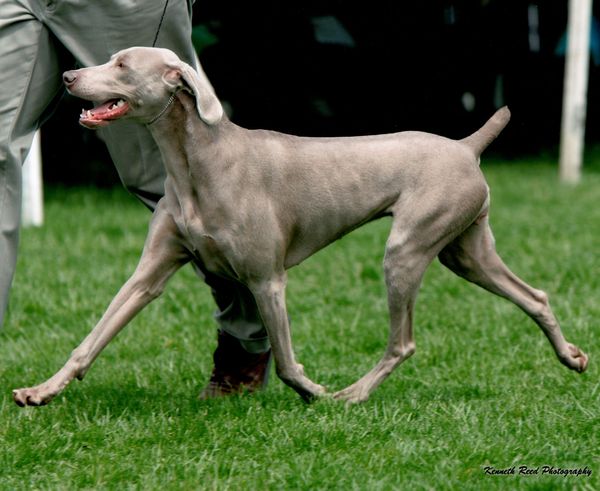 Am/Can Ch Bivins Frieslands Tennessee Waltz CD NA NAJ V
(Ch Camelot's Shall We Dance BROM x Am/Can Ch Frieslands Bivins Lisl CDX RAE TD JH OA MXJ NF NRD VX-3 BROM)
October 10, 2006 - May 23, 2021