Arran's speed and drive seem unlimited.  This futurity winner is a classic agility machine.  He won his first novice agility leg before he turned two years old and within six months was earning MACH points.  He won his first major from the puppy class.  His owner Sheila Cook, who had not previously shown a dog in the breed ring, put the rest of his championship points on him.  In addition to his agility titles, he has earned obedience and rally titles and holds a WCA retrieving rating.
In another first time experience for Arran and Sheila, Arran earned his Junior Hunter title running four times in the course of two days.  He earned his MACH1 in Nashville in January 2011, his MACH2 in Evansville in March 2012,  his MACH3 in Louisville in March 2013, his MACH4 in September 2013, his MACH5 in Hamilton, OH in May 2014, and his MACH6 in February 2015.  Scroll down for a video of his MACH2 qualifying runs.  In their spare time, Sheila and Arran have taken up dock diving.  Arran won the Semi Pro MAster Dock Diving Competition at the AKC Eukanuba Championship in 2013 and thus earned an invitation to the Dogs World Championship to be held in November 2014.  He earned his DM in March of 2015.
Arran was diagnosed with lung cancer in the spring of 2015, but his indomitable spirit and the love and care of his owners allowed him to continue to enjoy life and even continue to compete.  The world was a sadder place when we lost him in February of 2018.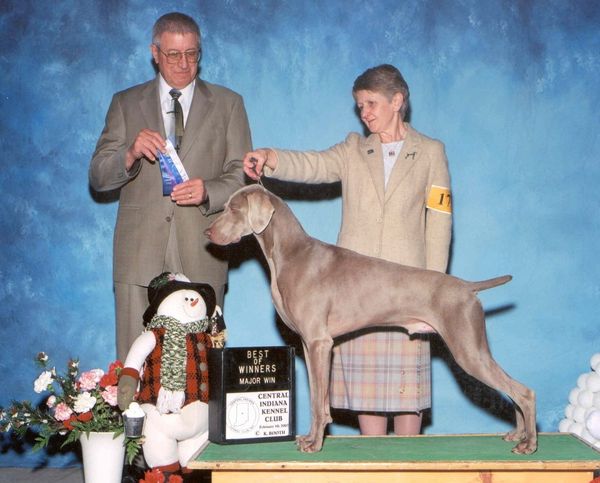 BIF Ch MACH6 BivinsFrslands Lord of the Isles CD RN JH MX MXJ MXF DM NRD VX-2
(Ch Smoky City True Grit x Am/Can Ch Frieslands Bivins Lisl CDX RAE JH OA MXJ NF NRD VX-2 BROM)
August 16, 2005-February 1, 2018