I had not planned to keep a male from the Sunny/True litter as I had decided to keep Alice.  But this boy dug his toenails into my heart and he never left my house.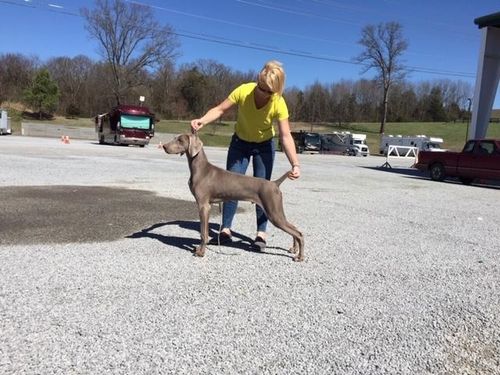 Gus has grown up to be an elegant boy with a very biddable temperament.  We have been training in tracking, obedience, and rally.  Because he had his CGC, I entered him in a trick dog test for fun and he earned his TKN.  He was Reserve Winners Dog at the specialty before the 2017 WCA Nationals and won his class at the Nationals.  He also earned a couple of Rally Novice legs.  After picking up some singles, he won his first major in August and then came home for a few weeks to wait for there to be another major.  He finished his championship in September when he won his second major.
Gus earned his RN in the fall of 2017 and his RI in January of 2018 and continues to train in obedience and tracking.  He took a brief break from performance training in March when  he went back to the breed ring and earned his Grand Championship in a speedy fashion with two Select Dog awards (five points each) in Franklin, a Best of Breed and Best of Opposite in Louisville ( five points each), and two Best of Opposite awards in Syracuse ( four and five points).  We owe many thanks to Michelle Scott and her team for training and showing Gus.  In April 2018, Gus won Senior Futurity Dog from a  large and very competitive class.
Gus spent the rest of 2018 training in obedience, rally and tracking, earning his RA and RE titles and qualified for the 2019 Rally National championships in Tulsa.  In February 2019, he earned his TD running a flawless track at Mid-Kentucky Kennel Club's test.  He is continuing to train in obedience and tracking and is currently competing in obedience, rally, and agility.  Gus earned his CD in July 2019 and is preparing for the open ring.  He earned his RAE and RM in September 2019, and we are slowing working our way towards a RACH. 
Gus had a great 2019 National with qualifying runs in agility, obedience and rally and earned a Triathlete award.
In July 2020, after a six month break from trialing, Gus earned his 20th DQ towards his RACH.  And in January 2021 Gus earned his RACH and is now retired from rally to concentrate on other activities.  In November 2020, Gus earned his first leg towards his CDX and completed the title in April 2021; we are now utility bound.  We were very proud of Gus when he earned his UD in July of 2023.  We are contemplating a UDX and are continuing to train in obedience, agility, and tracking.
GCH RACH Bivins Sandolar The Friendly Ghost VCD-2 UD RAE2 RM2 NF TKN VX (GCH Can CH Koping Win'Weim Say It's True RA BN NAP NJP x CH Bivins Sandolar Sunshine On A Cloudy Day CD RM TDX VX BROM)
Born July 23, 2016
Hips:  OFA Good WE-12822G24M-VPI
Elbows:  OFA Normal WE-EL2092M24-VP!
HUU/: N/HU
HYPM/SD/DM: N/N