We have very high hopes for Teddy.  Our pick of the Murphy/Froggy litter, Teddy has nice bone and beautiful angles and is one of the happiest puppies ever.  His tail never stops wagging whether he is walking around a dog show, playing with his family, or even having his nails clipped. As a young dog,  he exhibited his father's birdiness and a talent for tracking.   He earned his NSD and his second junior hunter leg the weekend before the Nationals in May, and completed his junior hunter title in October 2011.
In the August of 2010, Teddy went Best of Winners and Best Puppy at the Weimaraner Association of Canada's national specialty and then repeated the wins at their booster the next day.  He now has all the points he needs for his Canadian championship and lacks only a win under a third judge to earn his title.  He earned a five point major by going Best of Winners in Greenville in July 2011, won a four point major in Columbus in November, and finished his AKC championship in Winston-Salem in December. 

In his second weekend out as a special, Teddy went Select Dog, won breed two days (including a win over a top ten dog), and went Best of Opposite earning 13 points (including two 5 point majors) towards his Grand Championship. In November 2013, Teddy completed his Grand Championship in style by winning breed and two GCH majors over two top five specials in Montgomery.
 
In June 2011, Teddy was bred to Ch Greywind's Jewel in the Crown.  Eight puppies (five boys and three girls) were born in late August.  These puppies are now being shown; one of them, Ch Greywind's Guilty Pleasure (Ty), completed his championship with four majors in February 2013. Ch Greywind's Pleasure Seeker (Hedy), another puppy from this breeding has already had a litter of her own.  To see photos of Ty and Hedy, click here.

Teddy had a fun-filled fall of 2012.  He earned his CA in September 2012(see video below) and his NRD and thus his V at the retrieving ratings tests held before the Nationals in October.  He completed his Rally Novice title in November with a perfect score of 100 on his final leg and received an invitation to the AKC Rally Invitational in Tulsa.  He received his tracking certification and earned his TD and his VX in February of 2013.  His latest tracking endeavor involved dragging me and several limbs through the woods as we started training for a TDX.  Teddy earned two Beginner Novice legs with two first places in April 2013 and completed the title with another first place in July.

In April 2013, Teddy was bred to Ch Bvnfrslnd Sandolarseabreze Seasprite, and five beautiful puppies were born on June 27.  See Sprite for more information about Sprite and Puppies for more information about the litter.
Three of these puppies now have their own pages. 
See Sunny, Astro, and Vixen.
Sunny has had a spectacular spring by winning Winners Bitch and Best of Winners at the Nationals and finishing her championship a few weeks later.
Astro carries the performance gene from Teddy and has already earned a NAVHDA Prize, his TD and his JH.  He also has nine points toward his breed championship.
Teddy had a great summer
of 2013
watching over his puppies, swimming and retrieving at the lake, and training for his novice obedience title.  He earned his
CD in three straight days over Labor Day weekend.   While he was preparing for open obedience, he earned his RA
in January 2014.  Teddy won his first CDX leg in March 2014 and the last two legs with first place finishes in April.  He competed in Open A one more time in early May and earned another first place.  He is training for utility
and in agility as well.  In June, Teddy earned his RE and his first RAE leg at NDTC's Rally Only Trials and earned another RAE leg in July.  His scores have qualified him for the Rally Nationals to be held in March 2015.
Teddy made his agility debut in August
of 2014 and by early October had earned his OA and OAJ.
By January he had his AXJ and was earning MACH points.  Teddy earned his AX and his first double Qs at the NDTC trial in July.

In February 2015 Ch Frieslands Jitske Von Tunket (a Lisl great grandaughter) was bred
to Teddy.  Jitske had a litter of six big beautiful boys in April
.
Teddy had a splendid week at our Nationals in May 2015.  He placed in Open B, won Rally High Combined, earned an MXJ leg, and made it through the second cut in the breed ring.  He placed in the Most Versatile Weimaraner competition and earned a Triathlete award.  Photos from the Nationals are below.
Teddy
had a great weekend at the NDTC Rally Only Trial in June, earning four more RAE legs and three more Rally High Combined Ribbons, including one for a perfect combined score of 200.  He earned his RAE on July 24
,
2015 with his sixth High Combined award
. 
He has now qualified for the 2016 AKC Rally Nationals.
Teddy completed his MXJ in late August 2015 and his MX in January 2016.  

As
we train for utility, Teddy has continued to compete in open obedience.  He finished 2015 in the top ten in Weimaraners for the second year in a row.
Teddy was bred and owned by Ellen Grevatt (Greywinds Weimaraners) and me.  Our hearts were broken when we lost him at only seven years old due to cervical issues from an injury incurred while running agility.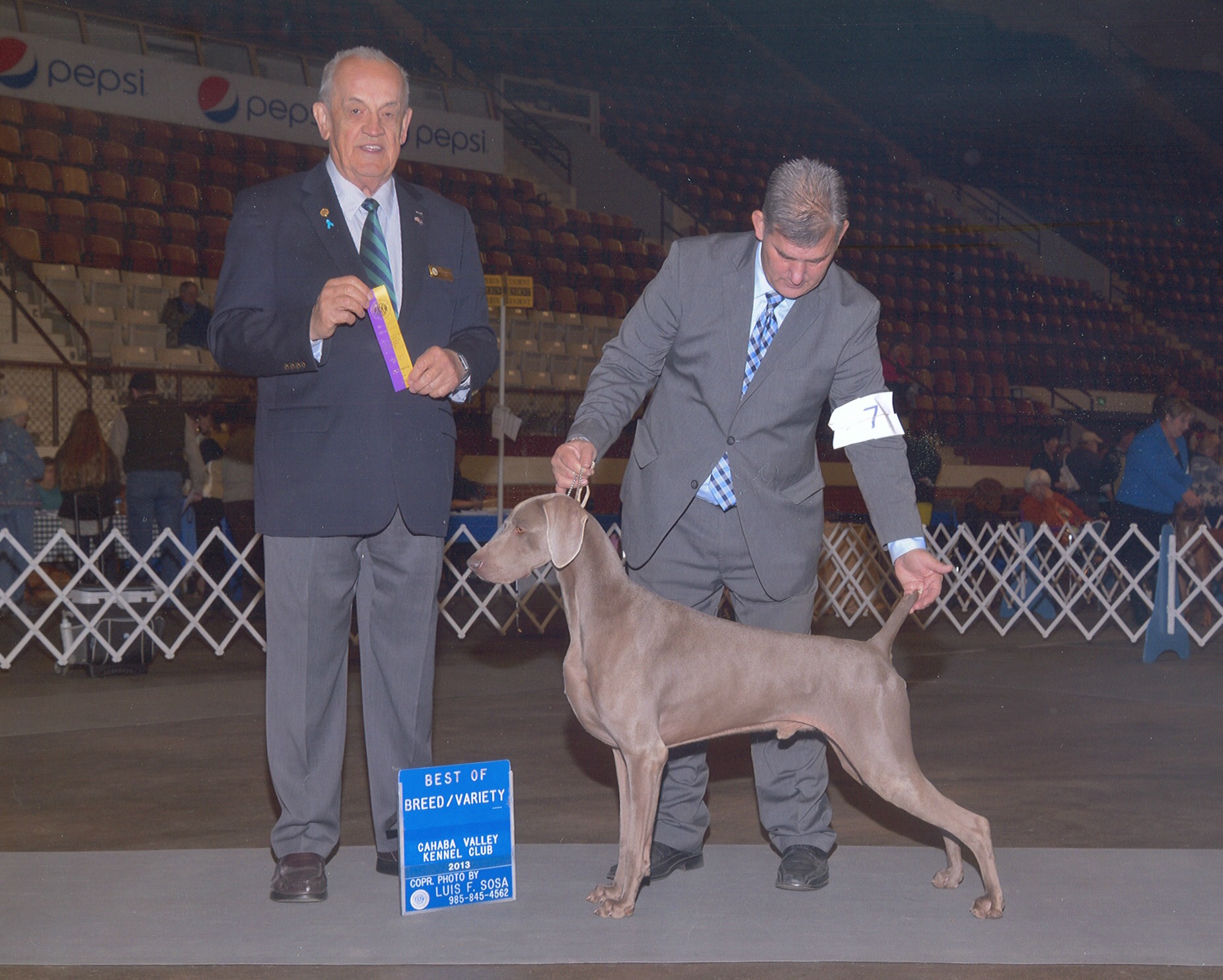 GCH Bivins N Greywinds Shoot For the Moon  VCD2 BN RAE MX MXJ  JH CA NRD VX-3
   (CH Greywinds Frozen  in Time MH  x CH Bivins Frieslands
  Moonlight in Vermont CA NSD)
  Hips:  OFA Good  WE-11524G25M-VPI
  Elbows:  OFA Normal  WE-EL1300M25-VPI
   HUU:N/HU
HYPM: N/N
DM:  N/N
SD: N/N
November 23, 2009-March 3, 2017