Rover left the States as a twelve week old puppy to go to Lolita Hilander of Sodervadets Kennels in Finland.  After winning breed at the Swedish Kennel Club's Hund 2006, he came back to visit us for the summer. We were thrilled to see our big boy. He was a very balanced dog with beautiful movement and a lovely gentle temperament. He won a five point major his first weekend back in this country.  He finished his championship with two more majors, placed second in his maturity, and won breed over specials.  He also earned his Canadian championship with ease before returning home to Finland.  In December of 2007 he won breed at the International Dog Show in Stockholm and in December of 2008 won breed at the World Dog Show.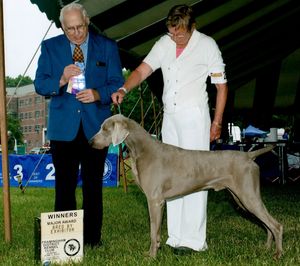 Still jetlagged but winning a five point major.
We were deeply saddened to hear of his sudden death in January of 2014.  A limited quantity of his frozen semen is available.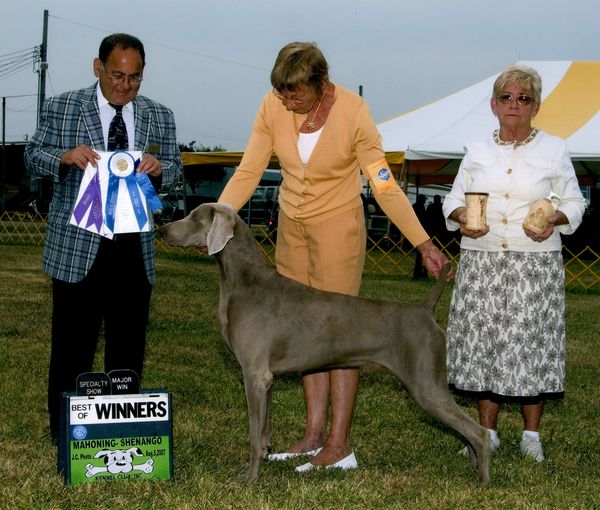 Am/Can SV-06 NORDV-07 WORLD-08 Bivins Frieslands Red Rover
(Ch Camelot's Go For The Gold BROM x Am/Can Ch Frieslands Bivins Lisl VCD2 RAE JH  MXJ NF NRD VX-3 BROM)
June 15, 2004`January 17, 2014
Ch Camelot's Go For The Gold BROM FROM

CH Smoky City Mob Boss JH BROM

CH Smokey City El Nino JH BROM

Ch Smokey City Ez Moonstone JH NRD V BROM

Am/Can CH Norman's Smokey City Heat Wave Jh BROM

Telmar Hot Topic Of Rushland BROM

Ch Aria's Alladin Of Telmar

Ch Camelot's Polkadots N Moonbeams

CH Camelot's Current Affair CD JH NSD V

Am/Can Ch Colsidex Nani Reprint JH SD BROM

CH Lady Sarah of Camelot NSD BROM

CH Camelot's Matinee Idol BROM

Am/Can Ch Frieslands Bivins Lisl VCD2 RAE JH MXJ NF NRD VX-3 BROM

Ch Norman's Greywind Robert Frost BROM

Ch Greywind's Jack Frost CD SD V BROM

Am/Can Ch Colsidex Standing Ovation BROM

Ch Greywind's Ashley Frost CD BROM

Norman's Ashley Germaine NSD BROM

Am/Can Ch Valmar Smokey City Ultra Easy JH BROM

Ch Norman's Johmar Hobi Cat

Ch Bremar Frieslands Ienke NSD BROM

Ch Nani's Southern Cross BROM

Am/CAn Ch Arokat's Legionnaire BROM

Ch Forshado Nani's Crystal Vision BROM

Am/Can Ch Bremar Freedom Hills Isis NSD BROM

Am/Can Ch Colsidex Nani Reprint JH SD BROM

Ch Arokat's The Bremar Headline BROM