Uppie is beginning to accumulate more titles at the end of her name than her mother.  Because of her inherent birdiness, the focus of Uppie's early training was in the field.  She quickly earned her Junior Hunter title and her Novice Shooting Dog rating and placed first in the puppy stakes at a field trial garnering a field trial point, all before she was fifteen months old.
Uppie had a great 2011.  She earned her CDX and AX (and her WCA VX) in January and her TD (and thus her VCD2) in her first attempt in April. She completed her RA in November. She is working hard at utility and agility and probably will do some more tracking as well. She earned her first Utility A leg in April 2013 and her second leg in June. 
When Uppie turned 11, we decided to stop formal obedience training and just have fun.  Uppie has begun going to barn hunts and is loving hunting rats.  Her first rat indication was to point it like it was a bird, but she now just buries her head in the scent pool.  She quickly earned her RATN and earned her RATO in February 2016.
Uppie remained energetic and happy until a few weeks before we lost her at the ripe old age of 13.  She will always be my eternal puppy.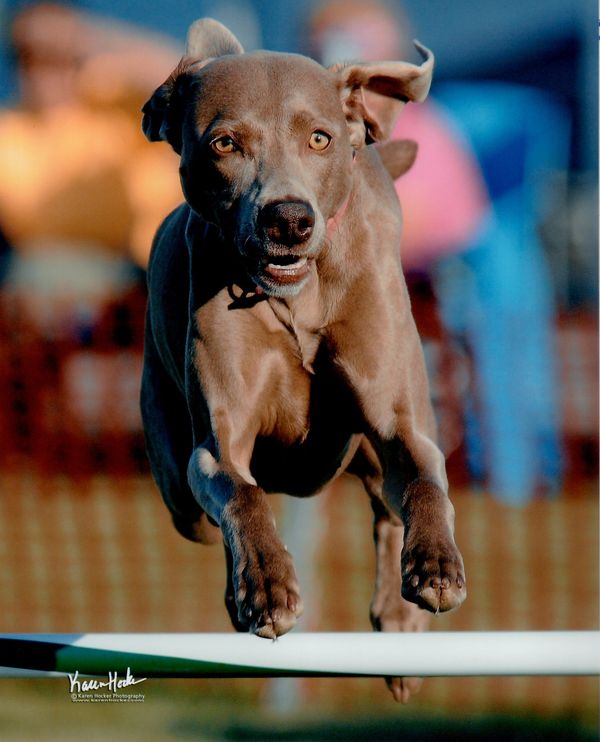 Can Ch Bivins Frieslands Heads Up VCD2 RA JH AX AXJ NF NRD VX RATO
(Ch Camelot's Go For The Gold BROM x Am/Can Ch Frieslands Bivins Lisl CDX TD RAE JH OA MXJ NF NRD VX-3 BROM)
June 25, 2004-October 27, 2017