Lisl
Lisl showed that she truly could do it all.  An American and Canadian champion with group placements in both countries, she held hunting, retrieving, obedience, rally, agility, and tracking titles.  She also produced well with seven AKC champions (some of whom are also Canadian champions) and earned her Bench Register of Merit (BROM). She has passed the torch for breeding on to her children and grandchildren--watch for Bivins, Frieslands, Greywinds, Stargazer, and Sandolar grandchildren and great children in this country and Sodervadets grandchildren in Europe. When Lisl retired from agility and obedience, she wasn't ready to stay at home. She earned her RAE in December 2011 and her TD (and thus her VCD2 and VX-3) in February 2012. 
Sadly, we lost Lisl on her thirteenth birthday in 2013.  Lisl was the chief greeter at my door but saved her special smile (a trait inherited from her mother Ienke) for those she loved the most. Consider yourself among the blessed if you received the entire rear end wag and smile from this girl.
Lisl was bred by Dorine de Vries (Friesland Weimaraners) and Pam and Alan Patunoff (Bremar Weimaraners) and owned and was owned by Dorine and me.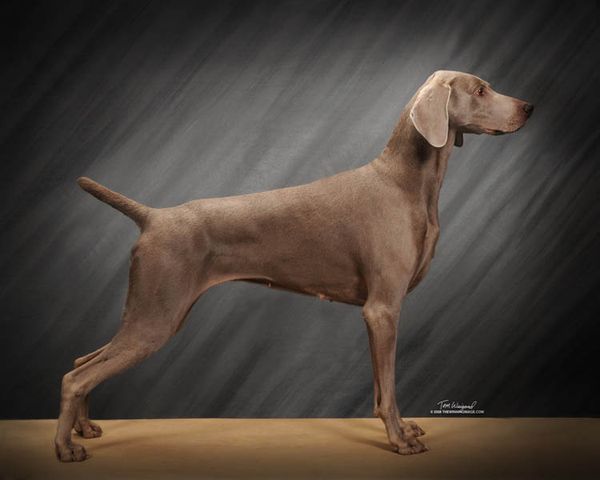 Am/Can Ch Frieslands Bivins Lisl VCD2 RAE JH MXJ NF NRD VX-3 BROM
(Ch Norman's Greywind Robert Frost BROM x Ch Bremar Frieslands Ienke NSD BROM)
June 5, 2000-June 5, 2013